Tesla Statistics - Production, Revenue, Sales & More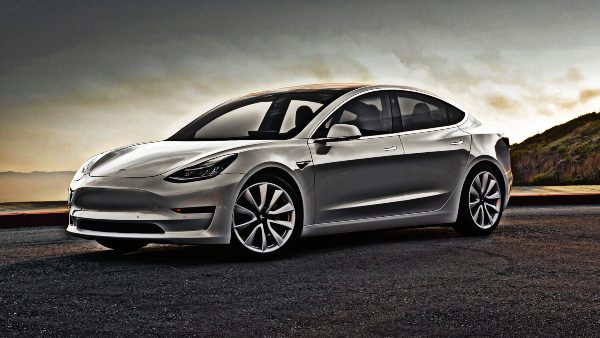 Tesla is gaining more and more attention across the globe with each passing year. It's hard to believe that the company's been around less than 20-years. Founded in 2003, Tesla had a pretty rocky start.In 2004, it was estimated that the company had a very low chance of making the electric car market a success. That is until Elon Musk stepped in as chairman and CEO.Technology development, production of prototypes, and scaling manufacturing took a turn for the better. And, in 2008, Tesla released its first electric car – the Roadster.The automaker has since made its mark producing its 1-millionth car in March of 2020 ahead of schedule. To date, Tesla makes around 200,000 vehicles each and every quarter.
Quick Overview: Tesla Stats
Tesla hit a $1.02 Trillion valuation on Oct 25, 2021.
A record-breaking 936,172 electric vehicles were delivered in 2021.
Tesla sales increased by 87% from 2020 according to Q4 numbers.
Musk has a 9-year plan to increase sales volume to 20-million annually.
Currently, Tesla produces 1,000 Model-3 units per day.
What's the Tesla Annual Revenue?
Tesla had a total annual profit of 53.8 billion in 2021 – up from 31.5 billion in 2020
. However, while sales continue to soar, production may slow in 2022 due to potential supply problems.Let's take a look at Tesla's YoY (Year-on-Year) growth since the introduction of their first electric vehicle in 2008: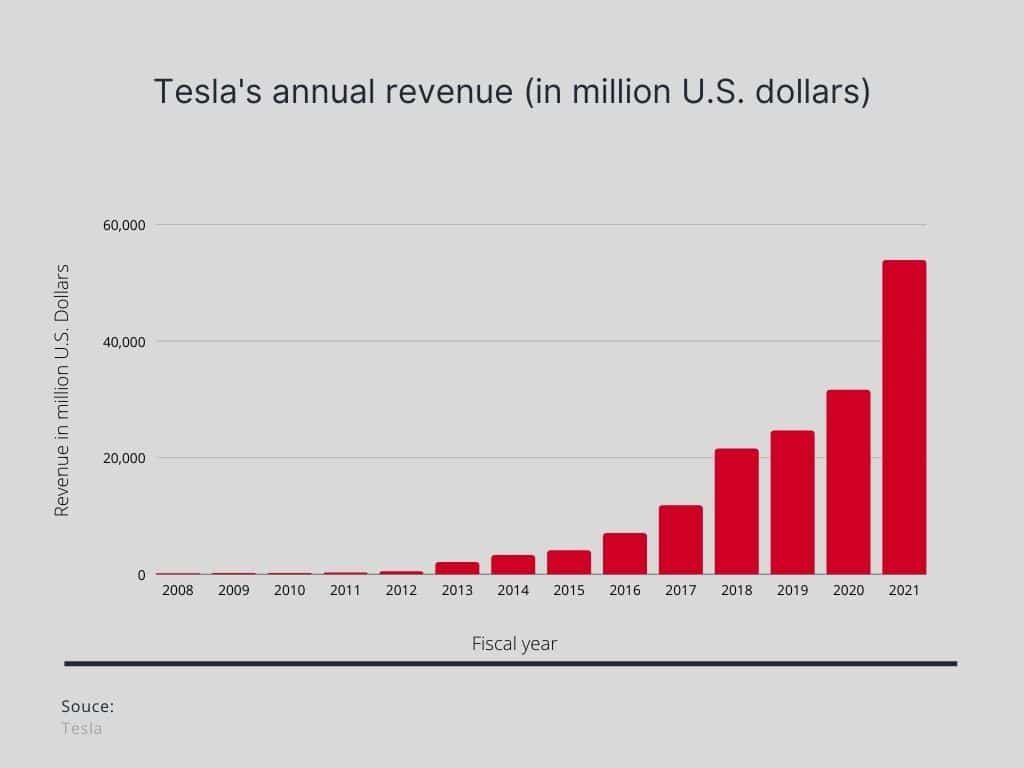 How much does Tesla make per day?
Nearly 15-million dollars – every single day
. Based on the Tesla stats we've seen, sales are only going to get higher from there. But, only time will tell.
Deciphering the Tesla Annual Report
There's no denying that 2021 was a great year for Tesla (TSLA). To get an idea of the Tesla production forecast for 2022, and where the company stands as far as their part in the worldwide EV market share, we've broken down the Tesla annual report below. Tesla Sales Statistics By Quarter (2021) The past year has been the best yet for the company. Tesla sales statistics skyrocketed in 2021, with the Q4 Tesla stats exceeding the manufacturer's goals for the year. Tesla Quarterly Sales Stats Let's break down the number of deliveries Tesla made each quarter of 2021:
Q1 – 184,400 deliveries
Q2 – 201,250 deliveries
Q3 – 241,300 deliveries
Q4 – 308,600 deliveries
As you can see, sales got better and better as the year progressed. Median sales for the entire year were just under 200,000 vehicles produced each quarter.
Tesla Deferred Revenue
As of Q3 of 2021, Tesla had an estimated deferred revenue of approximately $48 billion USD. This revenue primarily comes from pre FSD (Full Self-Drive) package sales. A huge milestone for both the future of the company and FSD. And, the Tesla Net Income Is… As of the end of Q3, Tesla reported a record quarterly profit of 1.6 billion USD. That's a 439.33% increase YoY. We can't wait to see what 2022 brings for this high-profit company.
How Does the Tesla Financial Statement Stack Up?
In Q4 of 2021, Tesla made headway by becoming one of the most popular electric vehicle manufacturers out there. We're confident that Tesla sales in the US, China, and Europe will continue to soar. Even Australia is jumping in on the EV market.Tesla's Board Chair, Robyn Denholm, recently boasted a lofty goal for the company – stating "By 2030, we're aiming to sell 20-million electric vehicles per year".While the goal may seem unrealistic, we think it just might be possible. Tesla sales stats increased by 87% just from 2020 to 2021. With continued growth like that as well as increasing Tesla manufacturing facilities, the sky is the limit for the automaker.
What About Tesla Stock Statistics?
Tesla (TSLA) has been an attractive pick as a strong buy for many. Although shares recently dropped as far as 26% in late 2021, it's still considered a promising buy in our book. Elon Musk, the CEO of the company, made a huge push in November to pay down taxes on stock options.As of close Jan 20, 2022, Tesla stock price increased by +15.74% (over the previous 52-weeks). The beta is 1.98, so Tesla's price volatility has been higher than the market average.However, Tesla remains a highly profitable company with some pretty impressive technological advancements soon to be announced. We're confident that Tesla will have another record year with rapid volume growth.You can keep an eye on the stock for yourself by visiting the Nasdaq website. But if you plan to buy, we'd suggest doing it sooner than later.
Tesla's Role in the Worldwide EV Market Share
The worldwide EV market share doubled in 2021 compared to 2020. With over 3-million electric vehicles sold last year, the market share makes up an impressive 9% of the overall car industry. Tesla has a lot to do with that.In fact, according to the stats, Tesla dominated the market in 2021 – accounting for 21% of total electric vehicle sales.
| Top EV Companies Ranked (2021 | ToTal Sales | % of Market |
| --- | --- | --- |
| #1 Tesla | 936,172 | 21% |
| #2 SAIC | 609,730 | 13% |
| #3 Volkswagen Group | 451,131 | 10% |
| #4 BYD | 323,143 | 7% |
| #5 Hyundai | 216,562 | 5% |
Total Sales for Top 5: 2,536,738 (55% share)
While the Tesla stats did slip from 23% to 21%, there are numerous factors to consider, including shortages of microchips necessary for production. This issue should be resolved in mid-2022 making the entire worldwide EV market share skyrocket.
How Do Tesla Stats Compare Region by Region?
We already know how many Teslas have been sold to date: Just over 1-million (as of Oct 2021). But, how do Tesla sales vary from region to region?While originally based in Austin, Texas, Tesla is now a globally-known company with hundreds of stores worldwide. So, exactly how many countries does Tesla operate in? Tesla currently has 3-primary markets – the US, China, & Europe.We wouldn't be surprised to see more markets opening as Tesla Supercharger stations by country rapidly increase.
Tesla Sales in the US
It's estimated that Tesla sales in the US for 2021 were right around 352,471 cars. That might not sound super impressive but when you consider that Tesla beat out BMW in the US luxury car market, we'd have to disagree. As of mid-2021, there were just over 160 Tesla stores across the United States.
Tesla Sales in China
Tesla sales in China account for nearly 26% of the company's total sales. According to the Tesla stats, an estimated 240,000 electric vehicles were sold in 2021 alone.
Tesla Sales in Europe
While Tesla sales in Europe have been somewhat slow-going to date, the company is gaining traction in a few key countries. The Tesla Model 3 is the first-ever electric vehicle to top European monthly sales. With a YoY increase of 58%, Tesla sales in Europe don't show any signs of slowing.Both the Model 3 compact sedan and the Model Y SUV have combined sales of about 170,000 since being introduced into the Western European marketplace.
Tesla Vehicle Production Statistics Explained
The Tesla production rate has steadily increased from quarter to quarter. In 2021 Tesla produced just around 184,000 vehicles in the first quarter. Yet in the final quarter of the year, production increased to just over 305,000.All in all, Tesla produced 903,422 electric vehicles last year. That partly has to do with an increase in Tesla manufacturing facilities. And, as Tesla Supercharger stations by country increase, the Tesla production forecast for 2022 is looking even better.So how many cars does Tesla make a day? Thanks to new manufacturing procedures, each facility is able to produce a solid 1,000 cars per day. That's a significant increase considering when production first started, the company was lucky to make 5,000 electric vehicles per week.
Tesla Manufacturing Facilities
There are multiple Tesla manufacturing facilities across the globe. However, there are really only two factories (to date) that are dedicated to electric vehicle production.Those Tesla manufacturing facilities include:
Tesla Factory Fremont, CA – Potential production of 600,000 S/3/X/Y cars annually (approx 100k S/3 and 500k X/Y).
Giga Shanghai, China – This factory is ramping up production to over 450,000 units in 2022, producing both Model 3 and Model Y.
Up and coming facilities due to open in 2022:
Giga Berlin, Germany (Gigafactory 4) – This Tesla manufacturing facility was due to open in 2021 but is clearly behind the initial schedule. It's thought that the German location will produce both Model 3 and Model Y.
Tesla Gigafactory 5 Austin, Texas, USA – Still under construction, this site could be the potential manufacturing facility for the new Cybertruck (expected to be launched no sooner than 2023).
Tesla Production Forecast 2022
Without any new data on the upcoming Tesla manufacturing facilities, we can only go based on current Tesla vehicle production statistics. Tesla plans to dominate 2022 with a lofty goal of producing 1.42 million cars.However, Elon Musk tends to underestimate in these instances and often exceeds manufacturing goals per quarter. We're interested to see what 2022 brings the company when it comes to the worldwide EV market share.
Tesla Supercharger Location Stats 2022
There are currently 3,233 Tesla supercharger locations across the globe (as of Jan 20, 2022).
That makes Tesla the largest, fast-charging network in the world. Charging costs a fraction of what you'd pay with traditional gasoline-based vehicles. It only takes 15-minutes at a Supercharger location to add up to 200 miles. Just plug in, charge, and go.
Tesla Supercharger Stations by Country
Tesla owners can easily find charging stations with the click of a button thanks to an impressive navigation system. You can even "plan your route" with calculated Supercharger locations along the way.North America has by far the most Supercharger locations. However, Tesla is regularly adding additional charging stations across the globe – easing the decision to purchase an EV.Let's break it down region by region:
North America – There are currently 1,440 Supercharger locations across this region (including the USA, Canada, and Mexico).
Asia Pacific – At this time, there are 1,090 locations throughout the Asia Pacific region with a fast growth rate.
Europe – Throughout Europe, you'll currently find 739 Tesla Supercharger stations. That's an increase of 10 stations just this year
Note:
Tesla Supercharging stations continue to grow on a daily basis. The numbers listed above are based on stats from Feb 9, 2022. To find out the exact number of Tesla Supercharger stations by country, you'll need to visit the official Supercharger info site.
How Many Employees Does Tesla Have?
Tesla made a huge hiring push in 2021, employing an additional 28,533 full-time employees across the globe. As of December 2021, the number of full-time employees Tesla and its subsidiaries had worldwide was 99,290. That's compared to 70,757 at the end of 2020.
Do Tesla Employees Get a Company Car?
Tesla has a good employee-employer relationship
. There have been no work stoppages as a result of labor disputes. All-in-all, the company seems to have a good track record when it comes to taking care of employees.But, do Tesla employees get a company car?
The short answer is "no"
. The majority of Tesla employees do not own or drive the company's electric vehicles. However, in some cases, an employee may be given a "company car" for work purposes.The good news is, there are a lot of other nice perks that come with a Tesla job – including health insurance, life insurance, paternity leave, retirement and financial plans, trading programs, and even pretty substantial bonuses.
Tesla Safety Stats
Tesla prides itself on manufacturing high-quality vehicles that optimize the safety of drivers, passengers, and pedestrians. In fact, the Tesla Model Y was named a "Top Safety Pick+" ranking 5-out-of-5 stars by the National Highway Traffic Safety Administration (NHTSA).
Tesla Fire Statistics
Electric vehicles have the lowest risk of potential fires compared to hybrid vehicles and/or gasoline-operated cars. Based on 2012 – 2020 data, there has only been approximately one Tesla vehicle fire for every 205 million miles traveled.
Tesla Autopilot Crash Statistics
More than 1-billion Tesla EVs have been driven with autopilot engaged. In Q4 2021, Tesla recorded one crash for every 4.31 million miles driven (with autopilot function activated). That makes Tesla's autopilot safety statistics much better than some of the other electric vehicles currently on the market.
Tesla Accident Statistics
Tesla vehicles have tons of active safety features to prevent accidents – and minimize damage when they do occur. Tesla monitors billions of miles driven using real-world data. To date, the company has only recorded one crash for every 1.59 million miles driven. Tesla Battery Fire Statistics According to Tesla's recent safety report, battery fires are rare thanks to placement close to the base of the floor and improved structural integrity of the battery itself. Here's what they had to say:
"Because of their [battery] strength, Tesla's battery packs rarely incur serious damage in accidents. And, in the extremely unlikely event that a fire occurs, the state-of-the-art design of our battery packs ensures that its safety system works as intended and isolates a fire to select areas within the battery while simultaneously venting heat away from the passenger cabin and the vehicle."
Tesla Environment Emission Statistics
Tesla is committed to producing vehicles with the greatest environmental benefits possible. In 2020 alone, Tesla users helped avoid 5.0 million metric tons of CO2e emissions (pollution) from entering the atmosphere.ICE (Internal Combustion Engine) powered vehicles typically emit 69-tons of C02e over their entire lifetime. Tesla EV (electric vehicle) cars produce significantly less – about ⅓ less. But not just that, Tesla produces cars that are much better for the environment than other EVs currently on the market too!Tesla continues to make strides towards lowering its carbon footprint when it comes to vehicle manufacturing and charging. Building their factories with sustainability in mind, Tesla is able to reduce long-term energy waste. Each Tesla Giga factory is designed to be better than the last when it comes to environmental impact.
Tesla Repair Statistics
Tesla designs every vehicle to eliminate the need for regular maintenance. That being said, there isn't any car that won't ever "break down". Approximately, 1 out of 100 Tesla vehicles will need to be serviced within 100,000 miles of use.Combining remote diagnostics and over-the-air software, most issues can be resolved without needing to visit a store in-person. Tesla also offers emergency 24/7 roadside assistance 365 days a year.
Tesla Battery Statistics
Tesla has one of the best battery systems of any EV. The innovative design of the battery pack aims to reduce the overall cost and significantly improves the car's automatic driving system. On average, Tesla vehicles can last around 336-miles per single charge.In just 15-minutes time at a Supercharger station, a Tesla can be charged for 200 miles worth of travel (at 80% capacity). The vehicles are much cheaper and more environmentally friendly than traditional gas-fueled cars.Furthermore, Tesla battery packs are designed to outlast the competition. Tesla cylindrical battery cells retain a full 90% of their capacity after 200,000 miles (322,000 km). Pretty impressive considering, in the US, most cars are scrapped before hitting the 200k mark.Tesla batteries should never be a problem aside from the rare faulty battery. The average user probably will never have to worry about replacing the pack.
Tesla Car Theft Statistics
Car theft is always a concern in the luxury market. But the good news is, Tesla's are very rarely stolen – Stolen 90% less than similarly priced vehicles. In recent years, Tesla has made stealing their cars almost impossible thanks to improved security, cryptography, and tracking.Best yet, almost all Tesla vehicles that have been stolen are quickly recovered. According to the National Insurance Crime Bureau, 112 of 115 stolen Telsas were recovered between 2011 and 2018.
Telsa Per Model Statistics
How many Tesla models are there?
Currently, there are only four models – each with different versions to choose from
. There are other prototypes in the works but their release date is still undetermined. Until then, you have the S-3-X-Y models that all have unique advantages.For the purposes of this article, we're not going to cover the Tesla Roadster statistics because it's not currently an option – unless you plan to buy a used EV.
Model S – Luxury Sedan
The Model S Luxury Sedan is considered to be one of the fastest, most powerful EV vehicles produced by Tesla. The dual-motor, all-wheel-drive car delivers maximum power and acceleration while maintaining long-distance drives.Let's take a look at a few Tesla Model S Statistics, and you can decide for yourself:
0-60 in 3.1 seconds
405-mile range (single charge)
670 peak horsepower
Top speed 200 mph
Seats up to 5 passengers
*The above Tesla Model S statistics don't include the latest Model S "Plaid" version.
How many Tesla S Have Been Sold?
From 2015 to 2021, The Tesla Model S sold 145,677 cars in the US – with 11,556 of those being sold in 2021. What Are the Sales/Delivery Stats for the Model S? According to the quarterly reports put out by Tesla, we've gathered the specific sales and delivery stats for the Tesla Models S &  X.
| Model S & X | Production | Deliveries |
| --- | --- | --- |
| Q1 | 0 | 2,020 |
| Q2 | 2,340 | 1,890 |
| Q3 | 8,941 | 9,275 |
| Q4 | 13,109 | 11,750 |
| Total 2021 | 24,390 | 24,935 |
What Are the Crash Stats for the Tesla Model S?
The Tesla Model S shows some pretty impressive crash stats compared to other EVs currently out there. The Model S achieved the highest possible safety ranking – 5 out of 5 stars – from the Institute for Highway Safety (IIHS). The vehicle also had some of the lowest probability of severe injury ever seen.
Where is the Tesla S Model Manufactured?
The Tesla factory in Fremont, California produces the Model S – along with the Model X. They have a capacity of producing 100,000 units between the two cars.
What's the Average Cost of a Tesla Model S?
You can expect to pay somewhere around $94,990 for the Tesla S Model. That's one of the more expensive EVs on the 2022 Tesla lineup. If you're looking to spend a bit more, the Tesla S Plaid Model will cost you $129,990.Depending on the model, Teslas can cost anywhere from $44,990 – $129,990 before taxes, incentives, and specific options.
Model 3 – Long Range Sedan
The Tesla Model 3 exceeds safety standards while maintaining the sleek look and feel of a sexy sedan
. The dual-motor offers a powerful vehicle that's built for speed and is loaded down with every possible feature you could want in an EV.Let's break down the Tesla Model 3 statistics:
0-60 in 3.1 seconds
358 miles per charge
470 horsepower
Top speed of 162 mph
Seats 5 passengers
*The above Tesla Model 3 statistics are based on the "Long Range" Model. However, there are two other Model 3 options that might be better suited for you – the "Rear Wheel Drive" and the "Model 3 Performance".
How Many Tesla 3 Have Been Sold?
Between 2017 and 2021, a whopping 589,587 Tesla 3 have been sold in the US. Production started slowly, but sales have gradually increased with each passing year. In 2021 alone, sales topped 121,610.
What Are the Sales/Delivery Stats for the Model 3?
According to the quarterly reports put out by Tesla, we've gathered the specific sales and delivery stats for the Tesla Models 3 & Y.
| Model 3 & Y | Production | Deliveries |
| --- | --- | --- |
| Q1 | 180,338 | 184,800 |
| Q2 | 204,081 | 199,360 |
| Q3 | 228,882 | 232,025 |
| Q4 | 292,731 | 296,850 |
| Total 2021 | 906,032 | 913,035 |
What Are the Crash Stats for the Tesla Model 3?
The Tesla Model 3 has won several safety awards. Aside from testing incredibly well in crash tests, the vehicle has been touted as setting a new safety benchmark for the industry. It's received 5-star ratings in just about every category and has shown the lowest crash probability ever tested by the National Highway Traffic Safety Administration (NHTSA).
Where is the Tesla 3 Model Manufactured?
There are currently two Tesla manufacturing facilities that produce the Model 3. One of those is the Fremont, California location which has been producing the vehicle since 2017. The other is the Shanghai factory in China that's only been making the Model 3 as of 2019.
What's the Average Cost of a Tesla Model 3?
There are three options when it comes to the Tesla Model 3. The "Rear Wheel Drive" version averages at $44,990 and is the lowest priced Tesla on our list. The "Long Range" option is the most popular, costing $50,990. If you're looking to spend a bit extra, the "Performance" version of the Model 3 comes with a $58,990 price tag.
Model X – Luxury SUV Crossover
This impressive vehicle is one of the more expensive Tesla Models on the 2022 lineup – and for good reason
. The Model X Luxury SUV Crossover offers dual power steering, all-wheel drive, seats an impressive 7-passengers, and is incredibly fast.Check out some quick Tesla Model X statistics below:
0-60 in 2.5 seconds
1,020 horsepower
Max speed of 155 mph
348 miles per charge
Seats up to 7 passengers
*The above Tesla Model X stats are based on the original X Model. You also have the option of the "Plaid" Model that comes with more features and a slightly higher price tag.
How Many Tesla X Have Been Sold?
Only 104,677 Tesla Model X were sold in the US between 2015 and 2021. Surprisingly, those stats dropped significantly in 2021 with only 7,305 cars sold. This could be a result of halted production due to microchip issues or perhaps the car's simply lost popularity among luxury car buyers.
What Are the Sales/Delivery Stats for the Model X?
According to the quarterly reports put out by Tesla, we've gathered the specific sales and delivery stats for the Tesla Models S & X.
| Model S & X | Production | Deliveries |
| --- | --- | --- |
| Q1 | 0 | 2,020 |
| Q2 | 2,340 | 1,890 |
| Q3 | 8,941 | 9,275 |
| Q4 | 13,109 | 11,750 |
| Total 2021 | 24,390 | 24,935 |
What Are the Crash Stats for the Tesla Model X?
Tesla continues to prove just how safe its electric vehicles are with the Model X. It's received a 5-star rating and has done really well in just about every crash test it's undergone.
Where is the Tesla X Model Manufactured?
The Tesla Model X is currently only made in the US at the Fremont, California location. The factory has a capacity of producing 600,000 S/3/X/Y vehicles – 50,000 of which are estimated to be the Model X.
What's the Average Cost of a Tesla Model X?
The Tesla Model X is one of the higher-priced options you can go for. The luxury Model X comes in at around $104,990. The "Plaid" option will have you shelling out nearly $126,460 before taxes, incentives, and additional options.
Model Y – Long Range Crossover
This Tesla Y Long Range Crossover is ideal for people that want a vehicle with loads of safety features and tons of storage
. You'll easily be able to seat seven passengers and accommodate all of their cargo – while keeping them extremely safe and comfortable.Let's check out a few key Model Y stats:
0-60 in 5.3 seconds
283 horsepower
A maximum speed of 135 mph
330 miles per charge
Seats 7 passengers
*The stats above are for the "Long Range" option. However, there is a "Performance" option also available.
How Many Tesla Y Have Been Sold?
The Tesla Y is one of the newer cars in the S/3/X/Y lineup with production starting in 2020. In the US alone, Tesla sold 171,529 of the electric vehicles.
What Are the Sales/Delivery Stats for the Model Y?
According to the quarterly reports put out by Tesla, we've gathered the specific sales and delivery stats for the Tesla Models 3 & Y.
| Model 3 & Y | Production | Deliveries |
| --- | --- | --- |
| Q1 | 180,338 | 184,800 |
| Q2 | 204,081 | 199,360 |
| Q3 | 228,882 | 232,025 |
| Q4 | 292,731 | 296,850 |
| Total 2021 | 906,032 | 913,035 |
What Are the Crash Stats for the Tesla Model Y?
The 2021-22 Tesla Model Y qualifies for a TOP SAFETY PICK+ award from the Insurance Institute for Highway Safety. That's one of the highest awards any vehicle can achieve, and this luxury SUV doesn't disappoint.
Where is the Tesla Y Model Manufactured?
There are two locations that make the Tesla Y model. The first is the Fremont, California factory in the US which has been producing this specific model since January 2020. The other manufacturing facility for this luxury car is in Shanghai, China, which recently started making the car in December of 2020.
What's the Average Cost of a Tesla Model Y?
There are two Model Y options to choose from. The most popular is the "Long Range" version, which averages $58,990 in price. If you're looking at the "Performance" model, you can expect to pay $63,990.
Tesla Cybertruck Statistics
Announced in 2019, the Tesla Cybertruck is due to be the company's first battery-electric light-duty truck
. While there isn't much information on the truck or when it will be released, three unique models have been announced. Each of which will have an incredible towing capacity, vault-like storage, and extraordinary traction and torque capabilities.
Tesla R & D Stats
Tesla's commitment to research and development has been their key to success. Tesla spends more than any other automaker on R&D and less on advertising.According to their 10-k filings, Tesla spends an average of $2,984 per vehicle on research and development. And 0% on advertising – taking an entirely untraditional approach.
Tesla Software & Firmware Statistics
Tesla is fairly secretive when it comes to its software and firmware updates. Which only makes sense with the amount of money they're spending on research and development. They're certainly not disclosing any information to the competition.
Tesla Firmware Stats
Official firmware data is not public. However, if you're an actual Tesla car owner, you can register on the following site to find out more about what's happening with the company as far as firmware stats.Tesla firmware tracker – When you sign up, you'll be asked specific questions about your vehicle to see if your EV is up-to-date. You can also track future firmware upgrades.Still, the information can be quite vague and difficult for the average user to decipher.
Tesla Software Stats
Tesla is one of the most innovative automakers providing regular updates via Wi-Fi directly to their vehicles. You can opt to approve the update as soon as it comes out or schedules it for a later date – these updates tend to take upwards of 3 hours.Some updates offer brand new features, while others help improve the function of current features.The latest software update, for example, 2022.4.5 – was just released and is "designed to fix the audible seatbelt reminder chime issue". The update will be available with over-the-air software.
Tesla Resale Value Statistics
Purchasing used EV models is becoming more and more popular among the average car shopper. That's because you're able to get a relatively-new, quality vehicle at a fraction of the cost.Tesla, in particular, has been showing very promising resale value stats. Whether you're looking to buy a new or used Tesla, chances are pretty good that you'll get a significant ROI if and when you decide to sell – depending on the individual model.Let's take a closer look at each model to determine its specific resale value.
Tesla S
If you're looking for a used Tesla electric car, the S-Model is going to be your best bet. It's been around for quite a while and can be relatively easy to find at a fraction of the cost of a newer model.However, if you're an S-Model owner, you might be disheartened to find out just how low the resale value of your car can be. After just 3-years, a used Tesla S is valued at only 58% of the original purchase price. And, the stats only get more disappointing from there.
Tesla 3
The Tesla 3 Model has a much better depreciation value than its Model-S predecessor. Because this electric car has only been on the market since 2017 – and really didn't do well until 2018 – the demand for this vehicle is much higher.That's good news for current Model-3 owners. With fewer of these EVs to be had, early statistics suggest the Model-3 should retain a whopping 77% of their value after 3-years. Still, the Tesla 3 Model remains one of the best-selling used electric cars currently on the market.
Tesla X
The Tesla X Model started being distributed in 2015 and quickly became one of the most popular electric cars available. Over the course of 5-years, the depreciation rate of the Model X is right around 45%. While that's not a great resale value, current owners of the vehicle do have some hope.The automaker is currently facing a large backlog of orders after making some serious updates in early 2021 – making distribution extremely slow. Orders outside of North America are predicted to be shipped mid-year 2022. Anyone that doesn't want to wait that long will be forced to purchase this fully electric SUV used.
Tesla Y
In some cases, a used Tesla can be more costly than the original purchase price. Thanks to a global shortage of microchips necessary for the production of this highly popular car, the automaker has been forced to significantly slow production.Prior to this shortage, the Y-Model was considered to have a depreciation rate of 49% over the course of 5-years. Only time will tell what's in store for this popular vehicle – both new and used.
Tesla Roadster
Over the past 10-years or so, the first-generation Tesla Roadster model has only lost about 11% of its value. Because the vehicle is no longer in production, you'll either have to shell out the big bucks to own this environmentally-friendly car or wait until the re-release which is still TBD.
Will Tesla Continue to Dominate the Worldwide EV Market Share?
Based on the above Tesla stats, we think yes
. Tesla continues to spend a large amount of money on research and development – putting it ahead of the competition when it comes to going green.It seems to us that Tesla, under the leadership of Elon Musk, is doing all the right things.
We're excited to see what the Q1 Tesla statistics will be in 2022
.